Sygnowano Fabryka Trzciny vol. 4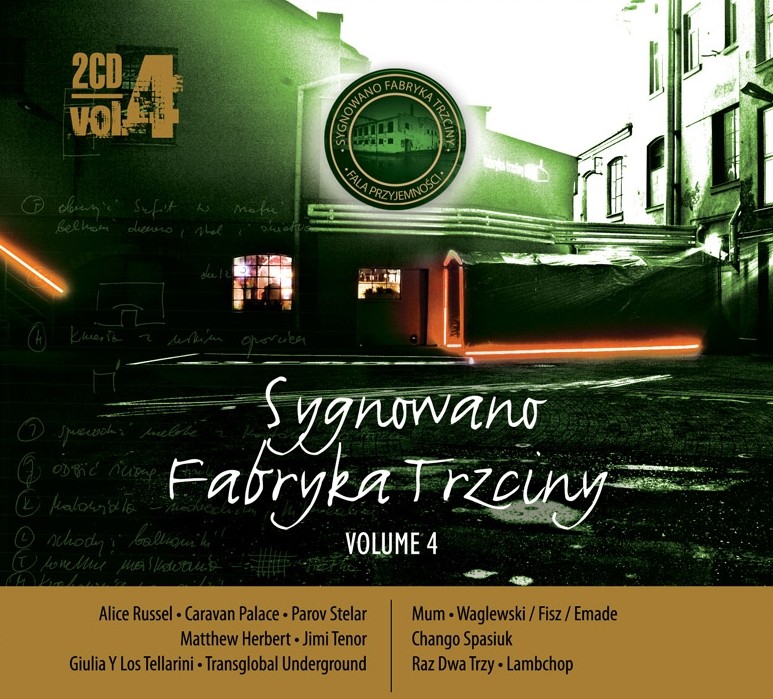 On Friday 30th of November 2009 on came to the market a new edition of the well know compilation Sygnowano Fabryka Trzciny vol. 4. Stanisław Trzciński, the author of this two disc edition, again presents the most interesting recordings of the artist who had in the recent years performed in Centrum Artystyczne Fabryka Trzciny.
In the compilation, published by STX Records and EMI Music Poland, there are songs by multiple excellent performers. In the two-disc publication we can hear the recordings of among others: Alice Russell, Caravan Palace, Parov Stelar, Matthew Herbert, Jimi Tenor, Giulia y Los Tellarini, Mum, Waglewski Fisz Emade, Miki Urbaniak, Raz Dwa Trzy, Lambchop. All artists present on the compilation have performer in the Warsaw Centrum Artystyczne Fabryka Trzciny or, what is a novelty this year, in the daughter centre – Skwer.
Sygnowano Fabryka Trzciny vol. 4 is a mix of club music and jazz. Sublime and modern and at the same time accessible compilation, allowing a possibility of submerging in the most fashionable music of Polish and foreign artists.
We give the fans of music another very interesting album, the fourth part of our best-selling compilation. For the six years of operating of the Centrum Artystyczne Fabryka Trzciny many interesting and magnificent artist presented themselves on the music scene. It's a happy fact that our publication is gaining a larger crowd of fans who appreciate that each performer is an individual artist, who often presents ambitious and avant-garde repertoire, says Stanisław Trzciński – the producer of the album.
This year's compilation apart for the carefully selected repertoire and interesting sounds also contains a special, 32-page album with photographs documenting the events in Fabryka Trzciny and in Skwer, and presenting the unique architecture of both buildings.
During the premiere party for the album, on 23rd of October 2009, in the only concert in Poland performed the band Giulia y Los Tellerini. The Spanish group has enchanted with their music the famous American film director Woody Allen, who had used their records in the film "Vicky Christina Barcelona". The musical journey of the world of the compilation "Sygnowano Fabryka Trzciny vol. 4" starts with the song "Il Principe", from their debut album.
The sponsor of the party to promote the album in Fabryka Trzciny is the wine producer Carlo Rossi.
Media patronage of the album and concert: Chilli ZET, AMS, ELLE monthly, Dom & Wnetrze monthly, VIVA! Bi-weekly, Warsaw Voice, Videoboard, cgm.pl, mediamixer.pl and Wirtualna Polska portal.
Publishers of the album "Sygnowano Fabryka Trzciny vol. 4" are STX Records and EMI Music Polska.
---
Tracklist for "Sygnowano Fabryka Trzciny" vol. 4
CD 1
Giulia y Los Tellarini - Il principe

Esperanza Spalding - I Know You Know

Barabás Lőrinc Eklektric - Famous

Jimi Tenor - Black Hole

Aronas - Dance, Dance, Dance

Tord Gustavsen Trio - Being There

Matthew Herbert - The Movers And The Shakers

Michał Grott & Pinnawela - I'm Lost

Tempfolder - Fish On Wheels

Trifonidis Orchestra - Chimpanzee

Parov Stelar - Love

Caravan Palace - Jolie Coquine

Alice Russell - Two Steps

Mika Urbaniak - In My Dreams

The Five Corners Quintet - Shake It

Clara Hill's Folkwaves feat. Marc Mac - Everything

A Camp - I Can Buy You
CD 2
Transglobal Underground - Border Control

Marika - So Sure

Psio Crew - Pude

L.U.C - Stan Halucynogenny

Renton - Walk Aside

Ladytron - Burning up

Zagar & György Ligeti - Eastern Sugar

Dick4Dick - Gina

Animal Collective - Water Curses

Lambchop - Close Up And Personal

Raz Dwa Trzy - Jesteśmy na wczasach

Waglewski Fisz Emade - Męska Muzyka (Live at Fabryka Trzciny)

Chango Spasiuk - Canto a Ñande Reta

Silver Rocket - Space Oddity

Maria Sadowska - Time 4 Love

Phil Manzanera & Leszek Możdżer - After Magritte

Mum - Don't Be Afraid, You Have Just Got Your Eyes Closed