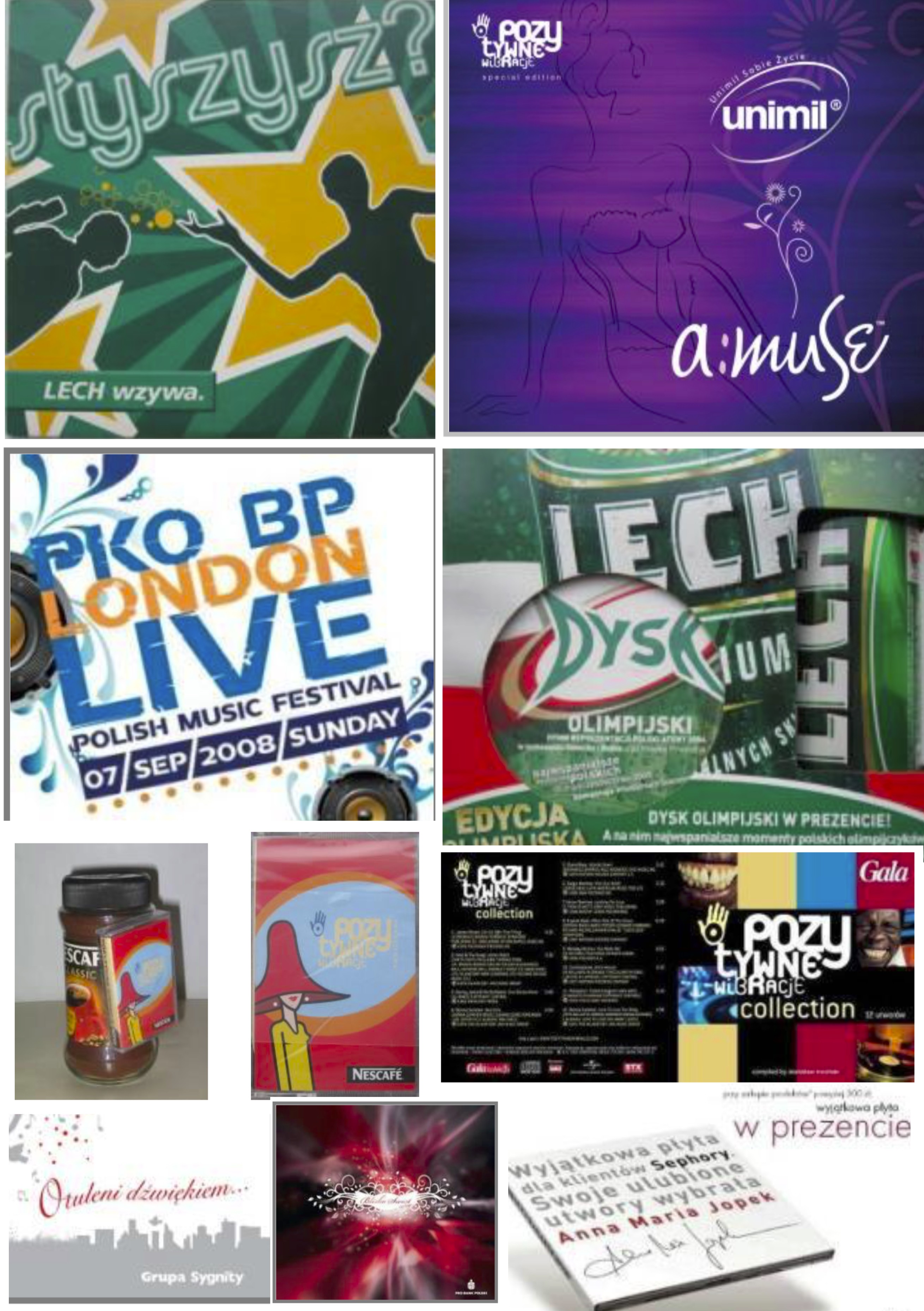 What is a promotional CD?
A promotional CD is a media carrier for audio or video material produced especially at the request of a particular company (the customer).
A CD prepared this way has a dedicated graphic design, often containing the trademarks of the customer and can be distributed free of charge in a number of ways, e.g. as a present, a memento, added to the product as a free gift.
The total number of units of this type of media produced by
STX Music:Solutions™ is 2 000 000 units.
Examples:
Lech – for Kompania Piwowarska S.A. (700,000 VCDs "Olympic Disk" attached to six-packs of beer and 100,000 CDs "Lech calls. Do you hear?" attached to beer in stores)

PKO BP London Live – for PKO BP (100 000 CDs) 

PKO PB Blisko Świąt - for PKO BP (100 000 CDs) 

Pozytywne Wibracje – added to the Gala weekly (100 000 CDs) 

Pozytywne Wibracje – added to Nescafe Classic cafes (1 000 000 cassettes) 

Sygnity S.A. – "Otuleni Dźwiękiem" – for Sygnity S.A. (5 000 CDs) 

Italian music CD –with invitations to the premiere of the new FIAT CROMA (5 000 CDs) 

Pozytywne Wibracje a:muse – for Unimil sp. z o.o. (2 000 CDs)
Why choose a promotional CD?
The companies who have decided on the production of promotional CDs state that it's more and more difficult to purchase a gift for the customer which would distinguish itself in the market and which will be remembered for a long time. They are fed up with constant ordering of calendars, notebooks, mugs, pens, mouse pads etc.
Promotional CDs created upon request are still a product not highly popularised, as on the promotional products market as among marketing people. In contrast to others – it's not thrown in the refuse (and often it's even collected), it doesn't go out of date (music, even from years back, if listened to willingly), it can be used in many places like the office, the house, the car etc.
---
Promotional CD vs. a shop bought CD – what's the difference?
Promotional CDs produced at a request of a particular company carry many advantages over a CD which can be bought in many popular sales outlets. The most important are:
Graphic design carrying trademarks and advertisements of the customer.
In contrast to the CDs which can be bought from the shop, the setting of the promotional CS can be designed at will, to refer to an advertising campaign or a company. It can contain any trade marks on the cover, adverts in the booklet, letters from the board etc.

Elective distribution mode
A promotional CD can be distributed in any way without additional and costly arrangements with the published and copyright owners. It can be added to products, given ad gifts, etc.

Choice of individual choice of packaging
Ahead of the distribution of the CD there's a possibility of choosing the packaging from among the many available variants. The CD can be produced as a paper envelope, plastic box, carton box (so called digipack)

Individual choice of the repertoire
Whilst deciding for a promotional CD we can influence the repertoire published. We can chose a genre of music but also particular hits and performers*. This allows to create a "connection" between the CD, the music chosen in advertising or choosing the music right for the company profile and a campaign (dynamic, mellow, etc.).

Choice of any volume
Promotional CDs can be produced in any volume, although realistically the cost effective minimum is 1 000 units. In the Polish market there have been cases of volumes over 1 million units. If it's important to you to have a smaller volume please see out special offer.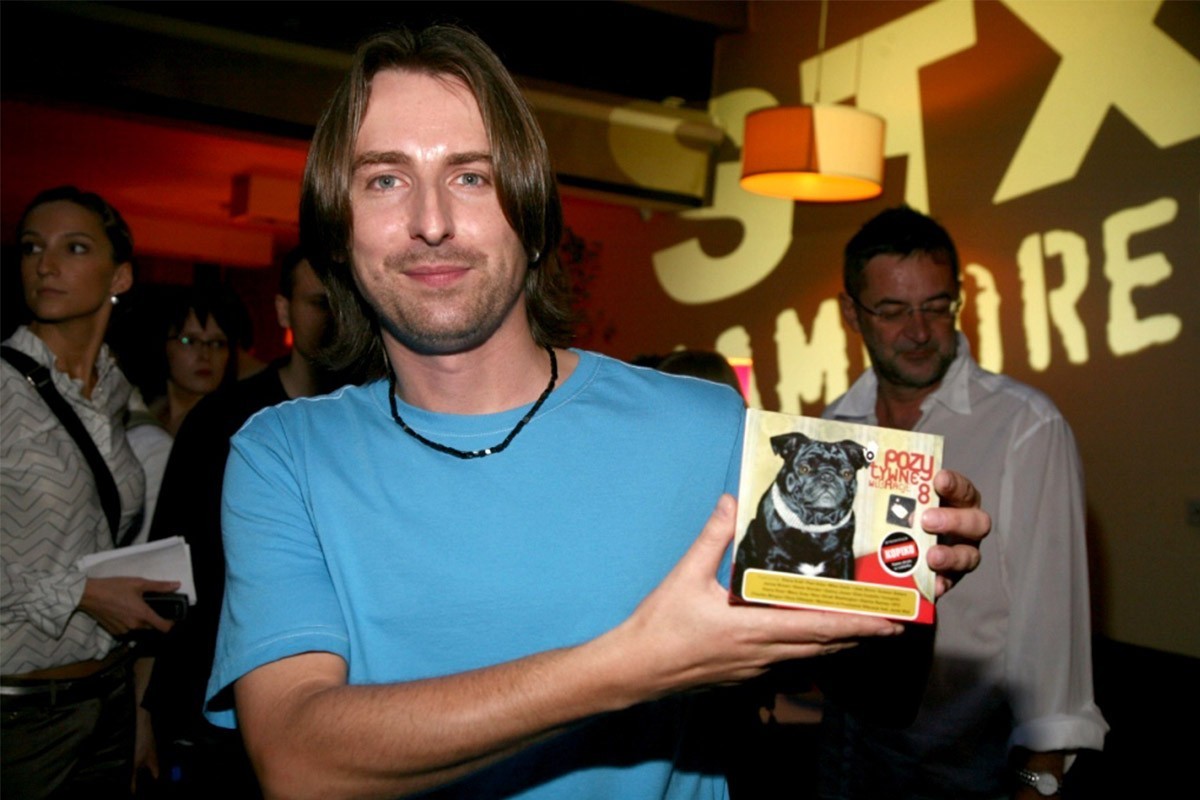 Promotional CD: why the quality of music is important?
In the market we encounter offers of low cost production. Usually the firms who send those offers in rely on low quality sound banks. The music sounds like it was haphazardly made in a few minutes by average musicians – and often with a synthesiser only. A common case if offering a repertoire already used by many promotional CDs.
 It's good to remember that the promotional CD is a business card of the company and their product. Lower quality repertoire acts negatively on the image of the firm who gave the order and the products which they promote. Additionally the client will feel cheated and the promotional CD will be discarded or shelved. The art in this business is creativity and finding attractive repertoire at lowest prices. The mark STX Music:Solutions™ on the CD is also a quality guarantee!
An option to pass over to you the license to use the name Stanisław Trzciński to mark your music selection on a premium product (in a booklet, on the cover and the like). An option to prepare PR material and promotional material for the client as part of information to your public that you are using the music and working with STX Music:Solutions™ and/or with Stanisław Trzciński, with the additional communication of this fact by STX Music:Solutions™ through their channels.