Sygnowano Fabryka Trzciny vol. 2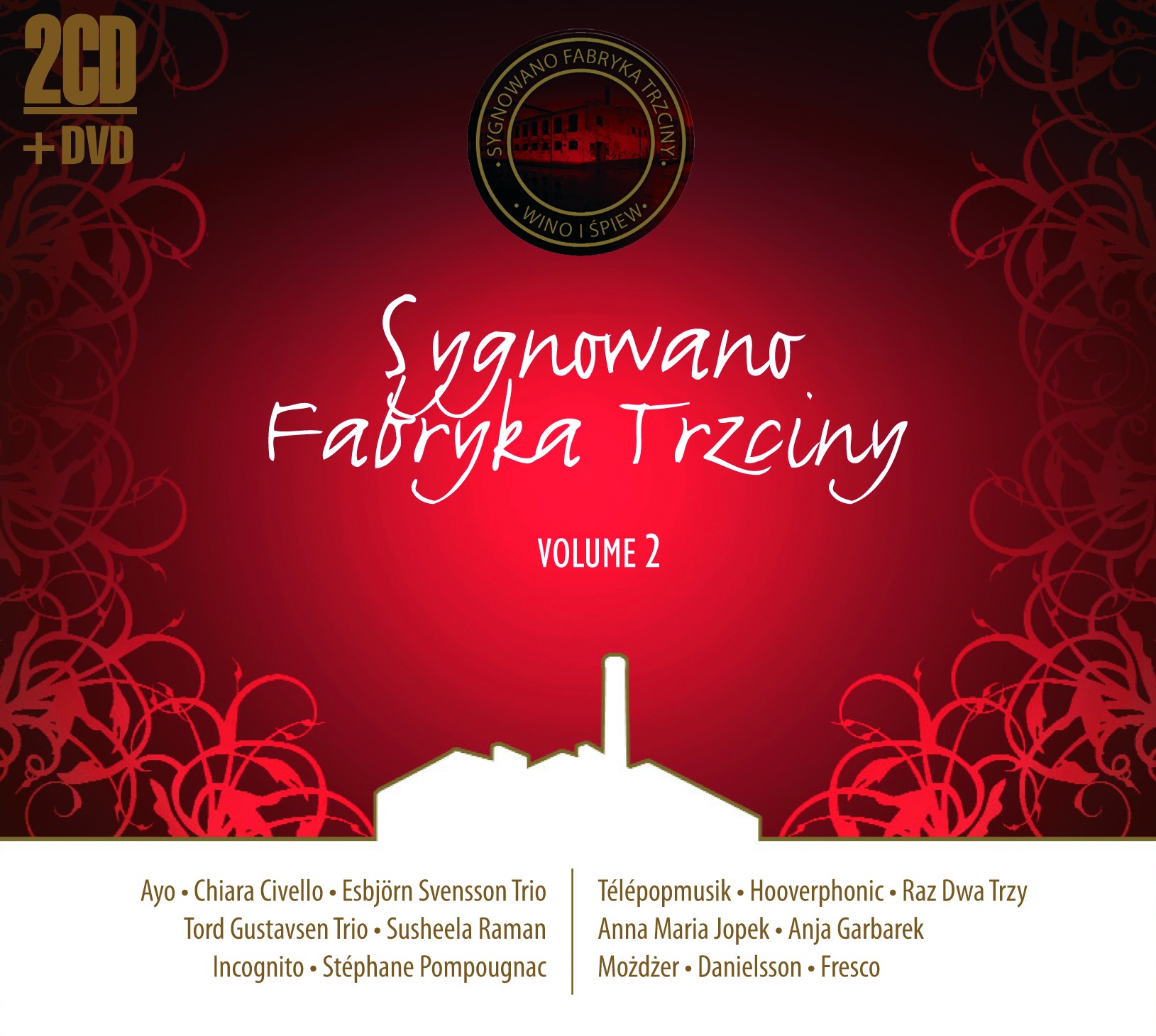 On the 22nd of November, fourth birthday of Fabryka Trzciny, the market saw the second edition of the musical compilation from the famous Warsaw Centrum Artystyczne – "Sygnowano Fabryka Trzciny vol. 2" (2CD + bonus DVD). As for the first edition, on two discs published by STX Records and Universal Music Polska there music pieces by artists who had already performed on the stages of Fabryka Trzciny. Stanisław Trzciński selected the rich artistic repertoire for the album.
The compilation, first published in 2006, has already acquired a group of true fans. For them and for those who will reach for avant-garde musical mix for the first time the organisers have prepared a pleasant surprise. Along with the exclusively published album there comes a DVD with a recording of "Elking" play, starring Tomasz Kot and Tomasz Karolak among others, played on 16th February 2007 in Teatr Nowy Praga in Fabryka Trzciny. Presented according to a script by Axel Hellstenius, and enjoying enormous popularity the play talks about basic, important to all, sense of closeness with another person.
Apart from the excellent theatrical surprise, "Sygnowano Fabryka Trzciny vol.2" contains as well the usual strong dose of highest quality music. Among the many superb foreign performers on the record there also are: the enchanting Ayo, one of the best jazz vocalists in the young generation Ciara Civello, unusually talented Anja Garbarek, the Swedish band Esbiorn Svensson Trio, the acclaimed DJ and producer Stephane Pompougnac, the French group Telepopmusik, and the legendary soul funk and acid jazz group – Incognito. There was no lack of music by Polish musicians, who could be heard live in Fabryka Trzciny. On the record there were songs by: Anna Maria Jopek, Ania Dabrowska, Smolik, Leszek Mozdzer and the bands Raz Dwa Trzy and Muzykoterapia.
"Fabryka Trzciny is a place gathering around itself many artistic individualities. The team who work here, and especially my Father among them – discoverer and founder of Fabryka, Wojciech Trzciński, carefully chooses the programme proposals. At the same time it's a place very open to experiment and yet unknown in wider circles talents. Such is in part the new musical album. Apart from the established and appreciated names there are artists who should be looked at more closely." – said Stanisław Trzciński.
The premier of the second part of "Sygnowano Fabryka Trzciny" album happened on the day of the birthday party of the four year old now Centrum Artystyczne. During the grand proceeding on the 22nd of November birthday party of Fabryka Trzciny performed Mika Urbaniak.
---
Tracklist for "Sygnowano Fabryka Trzciny" vol. 2
CD 1
Incognito - Everybody Loves The Sunshine

Ania Dąbrowska - Zima '81

Hooverphonic - No More Sweet Music

Télépopmusik - Breathe

Reni Jusis - Not real (cyber girl nr 6)

Stephane Pompougnac - The Ballad of Sacco and Vanzetti

Susheela Raman - What Silence Said

Ayo - Down on My Knees

Chiara Civello - Caramel

Tuck & Patti - Close to You

Oh Laura - Release Me

Smolik feat. Kasia Kurzawska - CYE

Novika feat. Sqbass - Tricks

Sofa - Where's The Groove

Tymon & The Transistors - Don't Panic We're From Poland

Raz Dwa Trzy - Trudno Nie Wierzyć W Nic
CD 2
Esbjorn Svensson Trio - A Picture of Doris Travelling with Boris

Tord Gustavsen Trio - Graceful Touch

Możdżer, Danielsson, Fresco - Light Up The Lie

Pink Freud - Mademoiselle Madera

Louis Sclavis - Divinazione Moderna II

The Brian Irvine Ensemble - Tango On My Old Hitachi

Jaga Jazzist - I Have a Ghost, Now What

Dani Siciliano - Extra Ordinary

Anja Garbarek - Beyond My Control

Muzykoterapia - Winobranie

Tymanski Yass Ensemble - Summer In Tricity

Skalpel - High

The Herbaliser - The Turnaround

Violet Indiana feat. Robin Guthrie - New Girl

Anna Maria Jopek - Gdy Mówią Mi (live)