Sygnowano Fabryka Trzciny vol. 1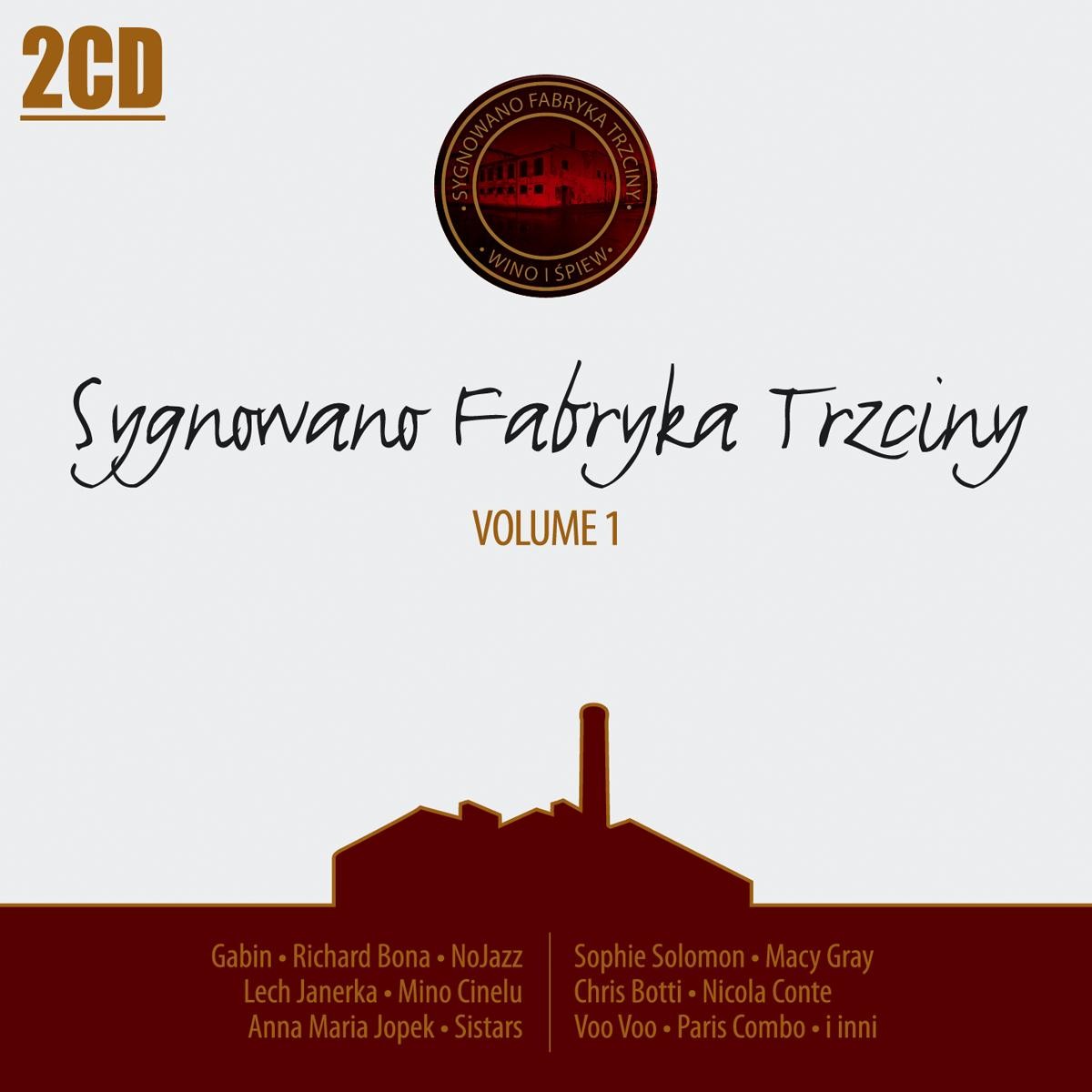 On two discs published by Stanisław Trzciński – STX Records and Universal Music Polska, there are pieces by artists who over the last three years performed on stage of many times awarded and famous now in the entire country Centrum Artystyczne Fabryka Trzciny in Warsaw. Carefully selected music repertoire "Sygnowano Fanryka Trzciny" is an international mix of new sounds, fashionable, avant-garde and accessible sounds with Polish notes.
Album whose premiere happened on 20th of November 2006 contains among others the music by such artists as: Sophie Solomon, Gabin, Chris Botti, Nicola Conte, Macy Gray, Paris Combo, noJazz, Anna Maria Jopek, Mino Cinelu, Lech Janerka, and Sistars.
The musical project has come about with the cooperation of Stanisław Trzciński with his Father, Wojciech Trzciński, founder of Centrum Artystyczne Fabryka Trzciny. The building where Fabryka is was found in the Praga part of Warsaw by my Father. It was also him who created from scratch the artistic profile of this place – reminisces Stanisław Trzciński.
I'm a great fan of Fabryka Trzciny and I am very happy for this mutual project. The Fabryka is prized not only for courage, artistic and aesthetic education, beautiful interiors and the promotion of Old Praga, but most of all for the programme. The music filling the interiors of an old factory from the beginning was very inspiring. Famous people had performed here, as well as artists who had to be "learned". There were classical music concerts, jazz, electronic and rock music. There's a working theatre. Apart from musicians there is recognition due to a plethora of photographers, graphic designers and painters who have their individual exhibitions.
"Sygnowano Fabryka Trzciny" is a set of two CDs in a very elegant 2 CD Box Deluxe Edition, and an exclusive 48-page album with photographs and reproductions of the best Polish photographers and painters. Among the authors there are: Tomek Sikora, Tomasz Niewiadomski, Jacek Poremba, David Michael Kennedy, Andrzej Dudziński, Michał Slezkin, and the artists of Łódź Kaliska.
The works of the artists adorned for the recent years Galeria Fabryka Trzciny. The album included is a homage and a thanks to the authors of the compilation for their exceptional creativity. I hope that the works presented in the album can entice people to broaden their knowledge of the works of those wonderful artists – said Stanisław Trzciński.
Publication of the "Sygnowano Fabryka Trzciny" album coincided with the first, big birthday party for the Centrum Artystyczne which is three years old, celebrated on 28th of November 2006, and enriched by performance of Anja Garbarek.
The appearance of the album is accompanied by a large advertising campaign. Medial patronage over the album was taken up by Radio ZET, City board Media, Elle monthly, Wprost weekly, WiK –Wprost I Kultura, cgm.pl, Metropol, VIVA! Bi-weekly, Media & Marketing, Vh1 and Wirtualna Polska internet portal.
The partners of the compilation are: Fabryka Trzciny, GRASP digital print and Scena Polska.
---
Tracklist for "Sygnowano Fabryka Trzciny" vol. 1
CD 1
Sophie Solomon feat. Ralph Fiennes - A Light That Never Dies

NoJazz - NoJazz Song (What Is Hep feat. Maurice White & The Earth, Wind & Fire Horns)

Paris Combo - Baguee

Zuco 103 - Futebol

Gabin feat. China Moses - The Other Way Round

Nicola Conte - Bossa Per Due

D'Sound - Do I Need A Reason

Anita Lipnicka & John Poter - Bones Of Love

Voo Voo - Lustro

Lech Janerka feat. Sydney Polak 7 jr. Stress - Konstytucje 2006

Sistars - Listen To Your Heart

Macy Gray - I've Commited A Murder

Ive Mendes - Night Night (Craigie Remix)

Cibelle - London London
CD 2
Chris Botti - Ever Since We Met

Viktoria Tolstoy - form Above

Kurt Elling - Moonlight Serenade

Mozdzer Danielsson Fresco - Smells Like Teen Spirit

Simple Acoustic Trio - Sisters Song

Tomasz Stanko Septet - Sleep Safe and Warm (Version 3)

Ralph Towner - Beneath an Evening Sky

Wolfgang Muthspiel - Waves

Anna Maria Jopek - Czas Rozpalic Piec

Mino Cinelu Feat. Anna Maria Jopek - Confians (Live)

Richard Bona - Calcabao De Copacabana

Cesaria Evora - Partida

Silver Rocket Feat. Kasia Nosowska - Hello

Maria Peszek - Moje Miasto (Niewinni Czarodzieje Big City Mix)