Pozytywne Wibracje vol. 7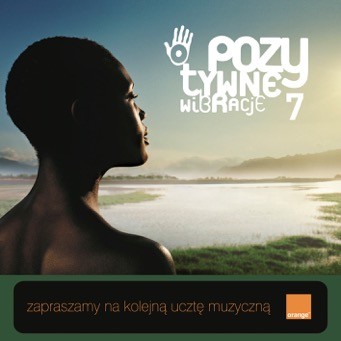 All those who are with Pozytywne Wibracje for years will feel the seventh part of the series has been created especially for them. There's been a return to the roots! New music, mixed with old, liked, vibrating songs. All this in a party-play and stylish set, to guarantee a high level.
On the day of the Pozytywne Wibracje vol. 7 premiere (7th of November 2005) invited by STX Records (publisher of the series) – in Warsaw with a single concert in Europe, performed Macy Gray (she is on the 7th album). On the same night at 10PM the opening party for Pozytywne Wibracje 7 and after party following the Macy Gray concert started in the Centrum Artystyczne Fabryka Trzciny.
On the Pozytywne Wibracje vol. 7 (digipack – 2CD edition) there are among others:
Nina Simone, John Scofield, Roy Hargrove, Woody Allen, Chris Botti, Macy Gray, Jill Scott, Eva Cassidy, Lisa Ekdahl, Gabin, Candy Dulfer, Dee Dee Bridgewater, Sam Brown, Gil Evans Orchestra, Eliane Elias, Tuck & Patti, Basia, The Jacksons, KC Sunchine & Sunchine Band, Tony Bennett, K.D. Lang, Basement Jaxx, Omar, Modjo and many others.
In the recent two years the creators of Pozytywne Wibracje presented three-disc albums signed with "Pozytywne Wibracje" brand. This was a successful experiment. Many people however couldn't afford such expensive albums. Apart from that there is nothing like tasting a concise, well thought out in every inch mix, according to the recipe which Stanisław Trzciński – the series author – had prepared for the first time in 1997.
Additionally during the 2006 carnival there came about long announced three thematic series: Pozytywne Wibracje Live, Pozytywne Wibracje Classics and Pozytywne Wibracje Dance. And within were only interesting discoveries and uncommon standards, carefully gathered over two years. Each thematic album is a separate adventure, separate excursion into the world of music. Live is for the artists of Pozytywne Wibracje in the best live performances. Classics is for the 70s and 80s in the strongest set you can imagine. Dance is for the songs from Pozytywne Wibracje in remix, dance versions, club versions and the best house.
But it's also worth noting that the author of the series is not only remembering the old friends of Pozytywne Wibracje. From all his heart he is fighting for more of such music in Poland. Because, according to Stanisław Trzciński, "there is nothing more important, more exciting, than a newly acquired listener, who had been used to current hits and greatest hits and suddenly discovers that music is great riches. Those stubbornly promoted in Polish in many media outlets "pseudo-hits" wear us down with mediocrity – says Trzciński. – Some people state that the research indicates that this is what Poles listen to. But I have other research. I have a different opinion. It's validated by out nine-year-long adventure, high sales of tens of compilations and albums of the artists who are on our anthologies and full halls and stadiums in good concerts in Poland.
Music changes the customs and tastes. But it's also a perfect communication channel for many client in our market. After many years of consistent work to awake greater trust of the advertising market to music marketing, sponsors supported the Pozytywne Wibracje more intensely, and they also sponsored the only European concert of Macy Gray with the band, on the day of the premiere of Pozytywne Wibracje 7.
Stanisław Trzciński says: Culture, art, and even entertainment music badly needs the support of patrons and wise investors. In turn the support of these patrons only makes sense to them if it is noticed and rewarded publicly. After those ten years on the market I have a feeling that we are preparing next musical projects not for hundreds of people but for tens of thousands of people.
This related to discs, and also concerts and media actions and advertisements. Sponsoring is mostly connected to sports in Poland. But music, especially the really good one, is becoming attractive again, and is and effective means of communication. It's also a belief of our partners and sponsors. Including Orange. That's why on the day of Pozytywne Wibracje vol. 7 premiere we invited to Warsaw, to the only concert in Europe, Macy Gray and a band of almost twenty people.
Good music will always defend itself. Sometimes it will help. Sometimes it will numb pains. It's a power – adds Trzciński. – Thanks to those who support us, including of course the fans of the Pozytywne Wibracje series for their trust.
---
Tracklist for "Pozytywne Wibracje" vol. 7
CD 1
Gil Evans Orchestra - Crosstown Traffic

Syreeta - I Love Every Little Thing About You

David Benoit - Miles After Dark

Tomatito - Pa'Salinas

Gwyneth Herbert - Fever

Wolfgang Dauner - Take Off Your Clothes to Feel the Setting Sun [Mojo Club's Taking the Sun Higher Mix by The Original Jazz Rockers]

Gabin feat. Dee Dee Bridgewater - Into My Soul

Balanço - A Man and a Woman

Soulstance - Kickin' Samba

Nina Simone - Feeling Good

KC & The Sunshine Band - That's The Way

The Jacksons - Blame It On The Boogie

Nils Landgren Funk Unit - Voulez - Vous

Basement Jaxx - Do Your Thing (Radio Version)

Sistars - Boogie Men

Jill Scott - Golden

Macy Gray - She Ain't Right For You

Sam Brown - Stop
CD 2
Eva Cassidy - Fields Of Gold

Roy Hargrove - I'm A Fool To Want You

Chris Botti - Back Into My Heart

Don Menza - Morning Song [DJ DSL Mix]

Modjo - Lady (Acoustic)

Basia - Baby You're Mine (Street Version)

Tuck & Patti - Let's Stay Together

Tony Bennett & K.D. Lang - What A Wonderful World

Eliane Elias - Call Me

John Scofield - Busted

Lisa Ekdahl - Daybreak

Candy Dulfer - For The Love Of You

Soriba Kouyat - Summertime

Stanley Turrentine - Don't You Worry 'Bout a Thing

Freddie Ravel - Sunny Side Up

Paul Jr. Jackson - Never Too Much

Omar - There's Nothing Like This

BONUS TRACK: Woody Allen - Lonesome Blues (Wild Man Blues Original Soundtrack)