Pozytywne Wibracje vol. 6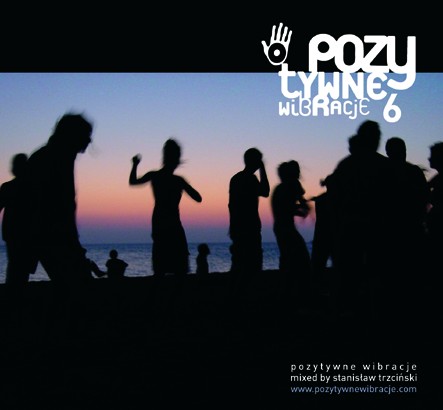 On the 22nd November 2004 a sixth part of the most popular and prestige in the Polish market compilation "Pozytywne Wibracje" was published. It was welcomed in the Polish homes, surprising each time with a different visage and consistent choice of best and tastiest repertoire. After the huge success of the last part of this compilation Stanisław Trzciński, the series' creator, decided to remain with the tried and tested three-disc formula, 3CD Deluxe Digipack Edition.
Among the artists present on the discs we can meet such fames and legends and recent year debuting artists like: Diana Ross, Joss Stone, Bobby McFerrin, Pizzy Gillespie, Quincy Jones, LTJ Experience, Al Jarreau, Will Downing, Charlie Haden, Cassius, Horace Silver, Kaleidoscopio, Weather Report, Matt Bianco, Cyndi Lauper, Ramsey Lewis, Roger Sanchez, X Press 2 feat. David Byrne, Daft Punk, Arrested Development, Telepopmusic and many others.
This time the albums were divided in the following parts: Passion, Intensity and Romance. The first part had decidedly dance and rhythm pieces. Mixed together are latest remix and 70s legends. The second is the smoothest jazz, good for mornings, Saturday and Sunday relax, groovy and jazzy pieces. The third disc is chill-out and calm, mood, illustrative, even nostalgic music. The listeners of the series will find on the newest album many surprises and interesting settings, astonishing performances.
---
Tracklist for "Pozytywne Wibracje" vol. 6
CD 1
INTRO Crystal Waters - Gypsy Woman (She's Homeless) [Acapella]

Crystal Waters - Gypsy Woman (She's Homeless) [Basement Boy Strip To The Bone Mix]

Arrested Development - People Everyday (Metamorphosis Mix)

RougeRouge - Pop Art

De La Soul Featuring Chaka Khan - (It Ain't) All Good [Can 7 Supermarket Mix (No Rap)]

Oliver Cheatham - Get Down Saturday Night

Peaches & Herb - Shake Your Groove Thing (Original Mix)

The Emotions - Best of My Love

Diana Ross - Upside Down

LTJ Experience Featuring Jackson Sloan - No Rhyme No Reason (Black Piggy & Pluton Kids Remix)

X Press 2 Featuring David Byrne - Lazy

Shakedown - At Night

DB Boulevard - Point Of View (Original Club Mix)

Roger Sanchez - Another Chance

Mighty Dub Katz - Let The Drums Speak

Room 5 Featuring Oliver Cheatham - Make Luv (Extended Bed Version)

Cassius Featuring Steve Edwards - The Sound Of Violence

Daft Punk - One More Time
CD 2
INTRO The Royal Philharmonic Concert Orchestra - Mission Impossible

Jackson Sisters - I Belive In Miracles

Quincy Jones - Rico Vacilon

Dizzy Gillespie - Mas Que Nada

Horace Silver - Song For My Father

Joss Stone - Super Duper Love (Are You Diggin On Me)

Ula Dudziak - Tico Tico

Rodney Franklin - Groove

Al Jarreau Featuring Marcus Miller - You Don't See Me (Live)

Weather Report - Birdland

Kaleidoscopio - Tem Que Valer (Eletro Bossa Mix)

Matt Bianco & Basia - Ordinary Day

Dan Siegel - What Gives

Metro - Month Of Sundays

STX:RECORDS Presents [PLASTIC vs REI CEBALLO] - Nice Girl (Radio Edit)

STX:RECORDS Presents [INSIDE] - Gdy będziesz

STX:RECORDS Presents [RUDZINSKA] - Do You Know How I Feel?

STX:RECORDS Presents [POLUZJANCI] - Tralala 300
CD 3
Ramsey Lewis - Les Fleur

Ive Mendes - Blessed Love

Telepopmusic - Breathe

X-Bass - Whisper

Grace Jones - I've Seen That Face Before (Libertango)

Tab Two - No Way No War

Michael "Patches" Stewart & Bill Evans - Fields Of Gold

Lambchop - Sunrise

Charlie Haden & Gonzalo Rubalcaba - Nostalgia

Charlie Haden Quartet West - Always Say Goodbye

Cyndi Lauper - Walk On By

Will Downing - Christmas, Love And You

Jeff Golub - Dangerous Curves

Dave Koz - Together Again

Marc Antoine Featuring Patti Austin - Mas Que Nada

Bobby McFerrin - Thinking About Your Body (Live)