Pozytywne Wibracje vol. 10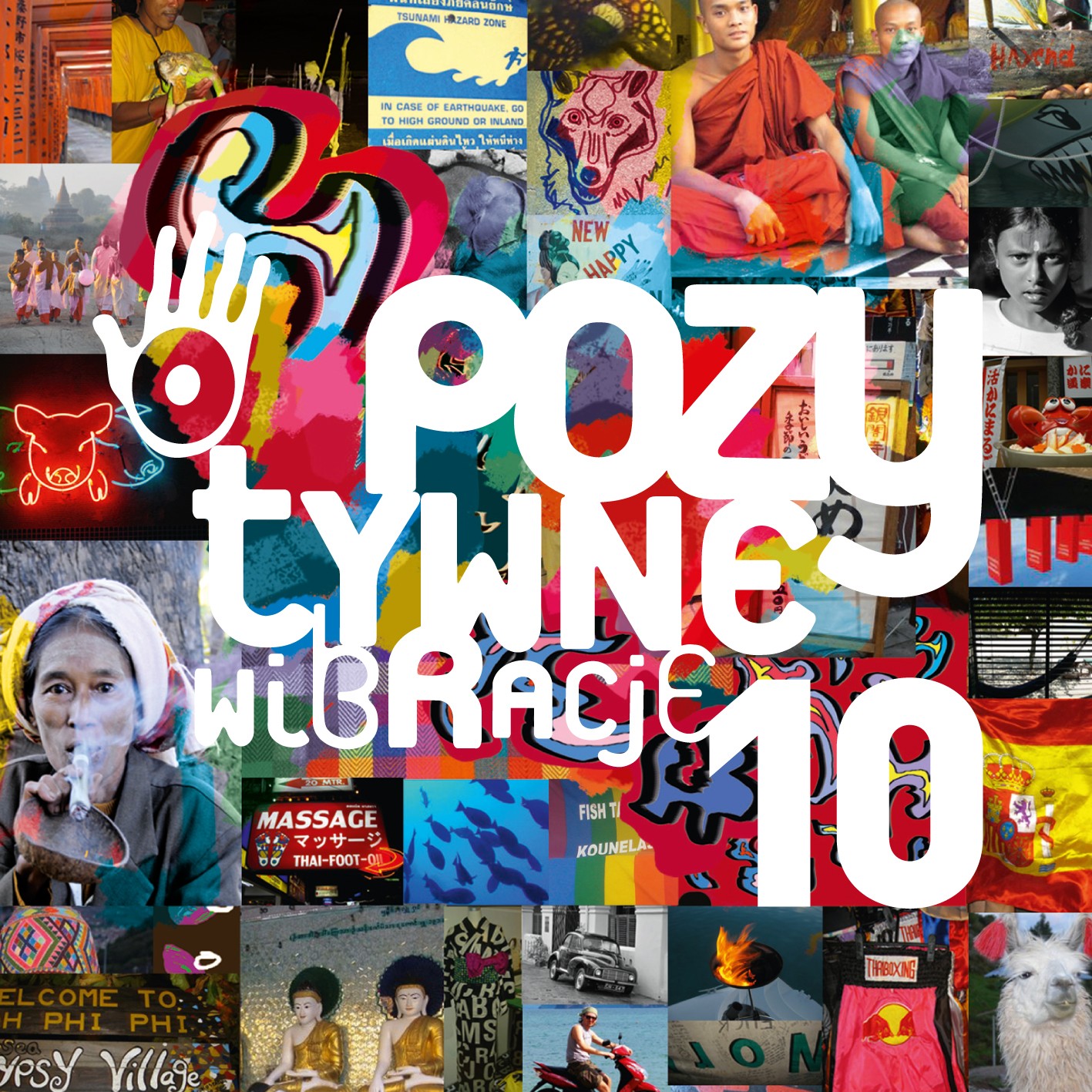 ANYTHING BUT CHILL-OUT POZYTYWNE WIBRACJE IN A NEW SETTING
Fans have waited for three years for this next, jubilee part of Pozytywne Wibracje. The tenth reveal of the legendary in the Polish market series haS come to the market in the middle of June 2010. It's as usual very varied: modern, dance, classic, mood, new and very energetic!
The repertoire of Pozytywne Ten is all treasured by Stanisław Trzciński, creator and producer of the discs asserts. The classics are not wanting: Aretha Franklin, Tom Jones, Chaka Khan, Quincy Jones and Bob Marley and young generation artists like Erykah Badu, Roisin Murphy, Puppini Sisters, The Thing Tings, Noisettes, and Sara Bareilles. The Polish note comes from Urszula Dudziak. The cherry on the jubilee musical cake is the first time in Poland musical license to a song by Prince! From the Pozytywne Wibracje you can as usual expect an excellent set of music with not a smallest compromise and a special surprise – an additional third, bonus CD, which to the majority of Pozytywne Wibracje fans will be astonishing. It's joking and deceitful subtitle 'Anything But Chill-out" – tells it all. It will be a presentation of astonishing music, certainly different from what the listeners and fans of Pozytywne Wibracje are used to. This is my personal protest – a tongue in cheek one, says Trzciński. For over a decade we fought to promote chill-out in Poland. It worked. Now it has become a culture feed for tens of soulless marketing products, who do not care for quality. I want to state loudly that we are not like that! On this special disc I present different music, stronger, part from the 80s, part most recent avant-garde, proving that the idea of music signed by Pozytywne Wibracje can be and is much wider than it seems. An exclusive edition of "Pozytywne Wibracje vol. 10" apart from three discs with excellent music also contains a special 48-page album. In this, richly illustrated with photos, historical series presentation you will be able to read interesting stories, see the process of disc creation "from the kitchens" and find out the statistics and facts on publishing music over the last thirteen years.
The Pozytywne Wibracje jubilee is another historic event. Stanisław Trzciński ever since creating a musical compilation which has become a musical intergenerational symbol has been dreaming for the new fans to have their festival. Many of the series fans have dreamt about it as well. In 2010 this dream had come true. On 23rd and 24th of July in the hospitable Bialystok the first edition of the Pozytywne Wibracje Festival happened. In the jubilee edition of the compilation "Pozytywne Wibracje vol. 10" a special coupon was published giving discounts on the purchase of tickets and ticket books – up to 40%.
Pozytywne Wibracje is a compilation published since 1997 by STX Records (STX Music:Solutions™) The most recent part of Pozytywne Wibracje has been published in collaboration with EMI Music Poland for the first time.
Pozytywne Wibracje is new sounds, dance music, club music, funk, acid jazz, soul, bossa-nova, trip hop, chill-out, smooth jazz.
Pozytywne Wibracje vol. 10 showed up in retail on 15th of June 2010. And on the 24th of June in the Warsaw club Iguana Lounge there was an official party promoting the new album.
Media patronage was provided by: TVP2, Radio PiN, VH1, Portal Wirtualna Polska, Gala weekly, Gazeta Prawna daily, Zwierciadło magazine, Sens, AMZ, Brief, videoboard.
Partners of the album are: Iguana Lounge, UPC, World Class, Flash Press Media, Kontekst Translations, D-Link, Speek Up, Projekt Fenix, Yeti Gruppo, Evergreen, Viessmann, Okno Drew, Rafstone, RPM sound & voices.
---
Tracklist for "Pozytywne Wibracje" vol. 10
CD 1
Intro

Malik Adouane feat. Kevin Digg - Superstition

Interlude

Larry Graham & Graham Central Station - Entrow

Fania All Stars - Steady (Fijo)

Bob Marley & The Wailers - Duppy Conqueror (Fort Knox Five Remix)

Róisín Murphy - Footprints

Prince - I Wanna Be Your Lover

The Brand New Heavies - I Don't Know Why (I Love You)

Luther Vandross - Ain't No Stoppin' Us Now

Della Reese - Why Don't You Do Right

Dave Cortez - Happy Soul With a Hook (DJ Format Remix)

Tom Jones - If I Only Knew

Mel Tormé - Comin' Home Baby

Quincy Jones & Bill Cosby - Hikky Burr

Al Green - All The Time

Erykah Badu - Honey

Noisettes - Never Forget You

The James Taylor Quartet - I Feel The Earth Move (live)

Urszula Dudziak - Sparrows (live)
CD 2
Percy Faith & His Orchestra - Theme From "A Summer Place"

Ricardo Marrero - Feel Like Making Love

George Duke - Every Little Step I Take

Liza Everson feat. Alvin S - Le Freak

Sara Bareilles - Many The Miles

Charlene - I've Never Been To Me

Ralfi Pagan - I Didn't Want To Have To Do It

Lena Horne - A Fine Romance

Roy Ayers - For Once In My Life

Charlie Haden Quartet West - Always Say Goodbye

Bette Midler - When a Man Loves a Woman (live)

Aretha Franklin - You Make Me Feel (Like a Natural Woman)

Wes Montgomery - My One And Only Love

Sergio Mendes - The Girl From Ipanema

Abdullah Ibrahim - Manenberg Revisited

King Curtis - Spooky

The Puppini Sisters - Walk Like An Egyptian

Bonus track: Piwnica pod Baranami - Dezyderata (live)
Bonus CD - TYLKO NIE CHILLOUT!
Dilated Peoples feat. The Alchemist - Spit It Clearly

Talking Heads - Genius Of Love (live)

Culture Club - It's A Miracle / Miss Me Blind (US 12 "Mix)

The Ting Tings - Shut Up And Let Me Go

Alphabeat - Fascination

Kenny Loggins - Footloose

Morningwood - New York Girls

The Human League - (Keep Feeling) Fascination

Bonnie Tyler - Holding Out For a Hero

Belouis Some - Imagination

Talk Talk - Life's What You Make It

Shalamar - Dancing in the Streets

Dick Rivers - J'en suis fou

Patrick & Eugene - Can't Get You Out Of My Head

Rufus & Chaka Khan - Ain't Nobody

Stereophonics & Tom Jones - Mama Told Me Not To Come