Pinacolada vol. 5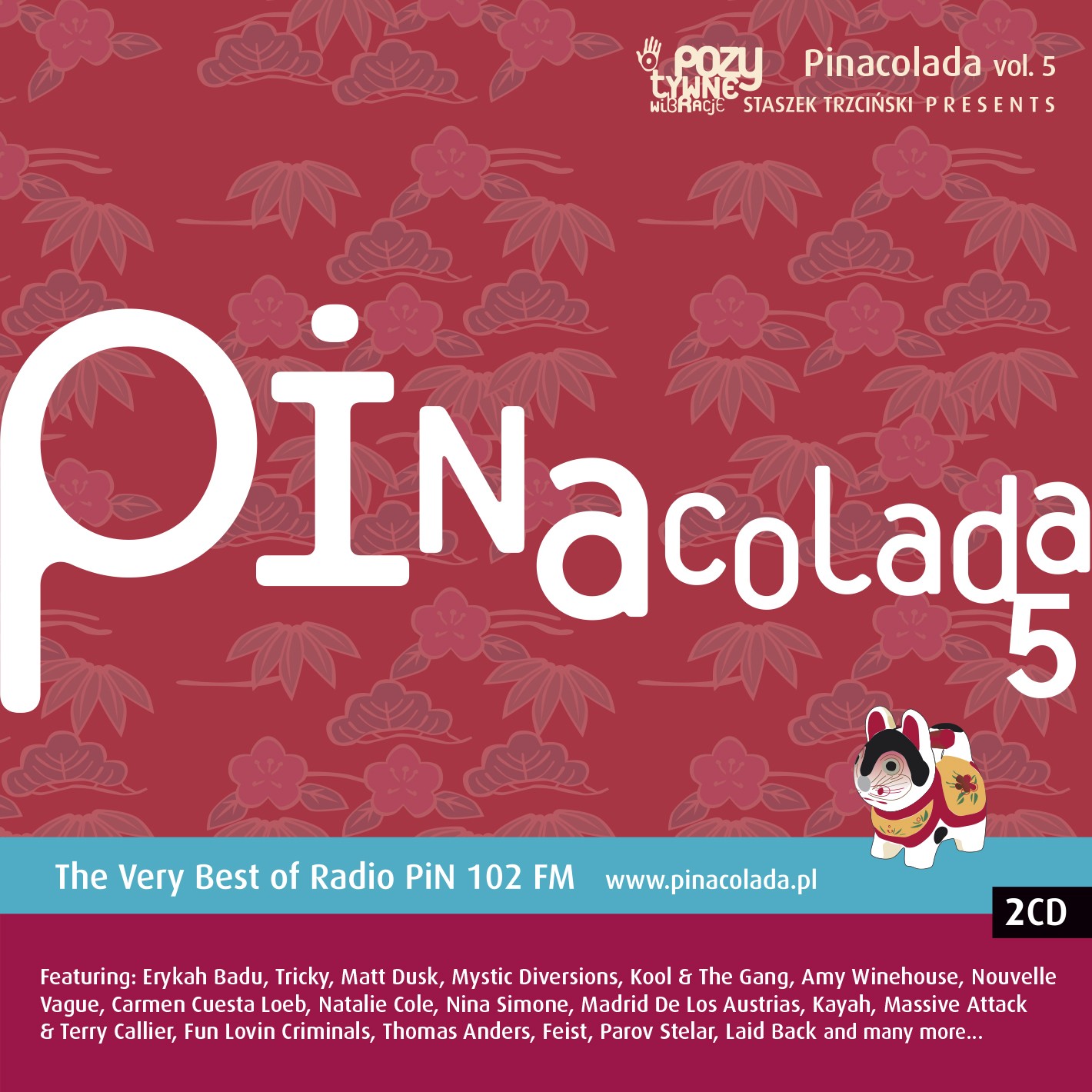 On the 8th of June 2007 there was a premiere for the album "Pinacolada vol. 5 –The Very Best Of Radio PiN 102 FM" – carefully selected set of music pieces played on Radio PiN 102 FM. "Pinacolada" is one of the most popular compilations in the Polish market.
On the two disc album there are such performers like: Erykah Badu, Tricky, Matt Dusk, Mystic Diversion, Amy Winehouse, Kool & The Gang, Nouvelle Vague, Carmen Cuesta-Loeb, Natalie Cole, Nina Simone, Madrid De Los Austrias, Kayah, Massive Attack & Terry Calier, Fun Lovin' Criminals, Thomas Anders, Feist, Parov Stelar and Laid Back and many others.
"The fifth edition of our firm cocktail is particular – it's accompanying the fifth birthday of Radio PiN" – explains Emil Marat, the programme director of Warsaw Radio PiN 102 FM."Five years. A lot of time. We've learnt a lot over those years, we've had a great pleasure to discover unique sounds together, we've listened what is happening around us and we tried to follow our own road." Stanisław Trzciński, co-creator of the album, boss of STX Records, adds: "I'm under impression that it's one of the most interesting and best "Pinacoladas" since the beginning of the series existence, I'm especially pleased with the first disc. I'm convinced that both discs of the compilation will be liked by the fans of good music and Radio PiN". Emil Marat: "To all those who have been with us for a long time and from yesterday – thank you. I want to thanks all Listeners and also Employees and Co-workers of the Radio. I hope that PiN will give and is giving you a lot of fun. Let's raise a celebratory toast with Pinacolada 5 and – as per the radio formula – 'hear soon'.
The intensive promotional campaign of the album was offered by media patrons: Wprost weekly, WiK - Wprost i Kultura, ELLE monthly, Metromedia, Magazine Machina, Portal Onet.pl, TV Planette.
"Pinacolada" was as usual cooked up by:  Emil Marat, Marcin Sobesto (music director of Radio PiN 102 FM) and Stanisław Trzciński, creator and producer of "Pozytywne Wibracje", "After Hours", "Pieprz i Wanilia" and "Sygnowano Fabryka Trzciny", co-host between 2004-2012 the ":Pinacolada" show in Radio PiN with Maciek Ulewicz.
The publishers of "Pinacolada" are: STX Records and Universal Music Polska.
More information on the series you can find on the web pages: www.radioPiN.pl and www.Pinacolada.pl
"Pinacolada" is also an authorial music programme of Stanisław Trzciński and Maciek Ulewicz, in the years 2004-2012 on Wednesday sin the Warsaw Radio PiN 102 FM from 9PM to 11PM.
---
Tracklist for "Pinacolada" vol. 5
CD 1
Tricky - For Real

Nina Simone - O-o-h Child (Nickodemus Remix)

Matt Dusk - History Repeating

Natalie Cole - Day Dreaming

Amy Winehouse - Rehab

Donavon Frankenreiter - The Way It Is

Feist - One Evening

Fun Lovin' Criminals - Ballad Of NYC

Laid Back - Happy Dreamer

Nouvelle Vague - Don't Go

Sophie Solomon feat. Richard Hawley - Burnt By The Sun

Parov Stelar - Charleston Butterfly

Jazzamor - No Evil In Mind 3

Pointer Sisters - Happiness

Kool & The Gang - Celebremos

Kayah - Get Down On It (MTV "Unplugged")
CD 2
(Intro) Erykah Badu - Penitentiary Philosophy

Erykah Badu - Penitentiary Philosophy

Gonzales Kolektiv - Już nigdy

Anna Serafińska - Zielono mi

Madrid De Los Austrias - Buscando

Thomas Anders - You're My Heart You're My Soul

Mystic Diversions & Mike Francis - Josephine

Massive Attack & Terry Calier - Live With Me

Alphabeat - Hours To Flowers

Toco - Foolish samba

Rosario - El Nino De Tus Ojos

Carmen Cuesta-Loeb - Todo Para Ti

Radio Macande - Me Regalas Tu Amor

The Porter Project - How Could We Be Wrong

Cocosuma - The Servant