Pinacolada vol. 3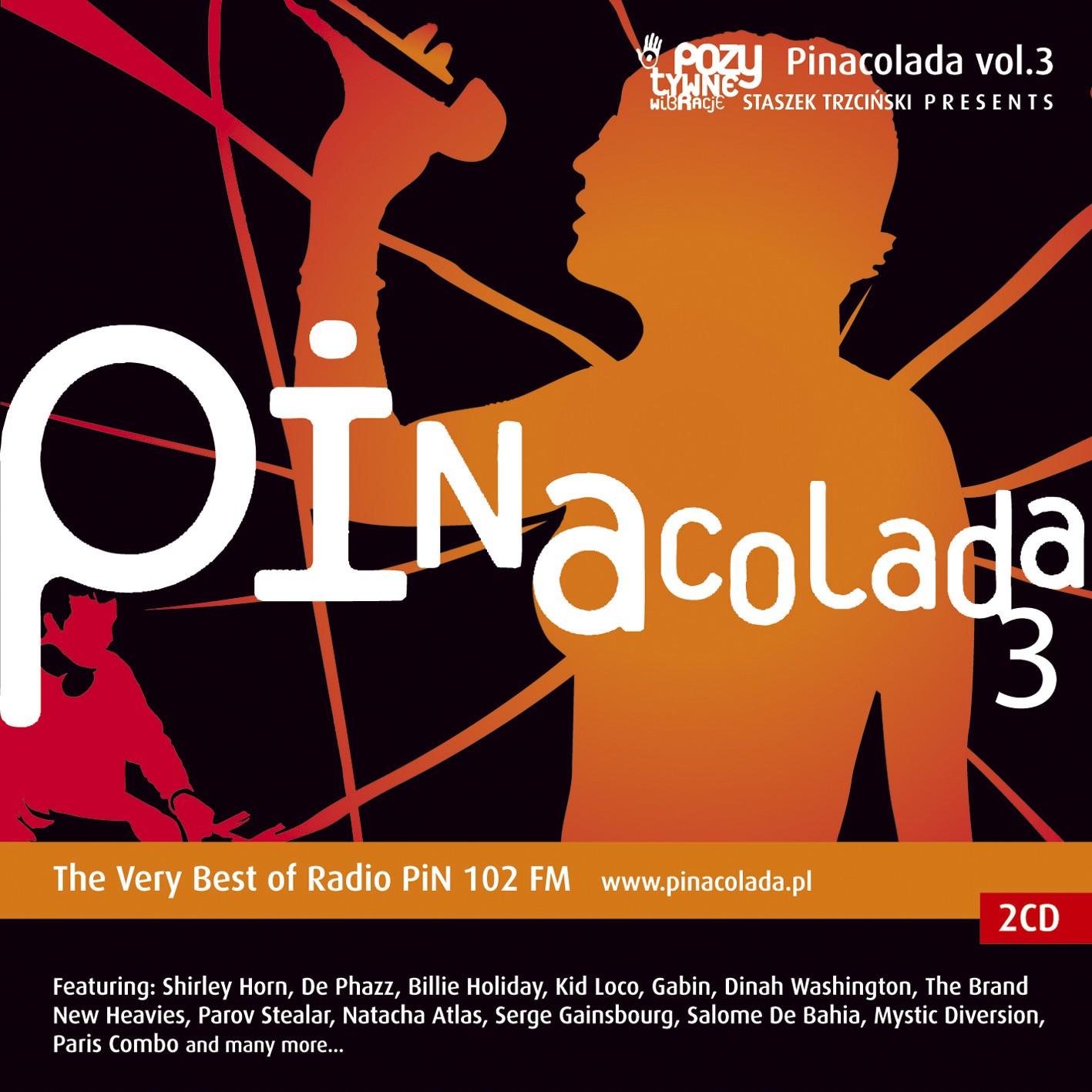 On the 30th of May 2005 there was a premiere of "Pinacolada vol. 3 – The Very Best of Radio PiN 102FM" – a compilation of music pieces played on the Radio PiN 102 FM.
"The third edition of Pinacolada is crazier, braver, and more distinct flavoured. We are excited by looking for what connects classics with new things, new sound to the light Verdigris of the old said Emil Marat, programme chief of Radio PiN 102 FM. "We hope that the cocktails will once again be to your taste and that again thanks to music we can discover the small moments when the time flows slower.
"Emil Marat and Marcin Sobesto have created a very ambitious radio. On the discs there are vibrant recordings, well known to the listeners of Radio PiN", adds Stanisław Trzciński, the boss of STX Records. "Among the performers are: Shirley Horn, De Phazz, Billie Holiday, Kid Loco, Gabin, Dinah Washington, The Brand New Heavies, Parov Stealar, Natacha Atlas, Serge Gainsbourg, Salome De Bahia, Mystic Diversion, Paris Combo and Magda Umer".
On the double albums smooth jazz, chill-out and classic soul dominate as always. All works are connected through the affinity of sounds: classy and stylish.
The first two parts of Pinacolada proved to the retail hot of 2004 and 2005.  No one expected such warm reception of the debut series with ambitious music directed to refined audience, which Radio PiN is associated with.
Pinacolada was as always cooked up by Emil Marat, Marcin Sobesto (director of music in Radio PiN 102 FM) and Stanisław Trzciński, creator and producer of Pozytywne Wibracje, co-hosting with Maciek Ulewicz in the years 2004-2012 the Pinacolada audition in Radio PiN 102 FM (Wednesdays at 9PM).
Partners of Pinacolada: Motorola, The Beach, Jazz Bistro.
Media Patrons: Polityka, Metropol, WIK - Wprost i Kultura, Elle monthly, Planete TV, MTV Classic, Jet Line, Metromedia, onet.pl, bankier.pl.
Publishers of Pinacolada: Universal Music Polska and STX Records
---
Tracklist for "Pinacolada" vol. 3
CD 1
Salome De Bahia - Taj Mahal

Madrid De Los Austrias - Mas Amor

Natacha Atlas - Yalla Chant

Slow Train Soul - Inna City Woman

The Brand New Heavies - Keep On Shining

I Maniaci Dei Dischi - Our House

Dinah Washington - Is Your Is or Is You Ain't (My Baby) - Rae & Christian remix

Billie Holiday & Bent - Speak Low

De Phazz - Astrud Astronatte

Feist - Inside And Out

Carlos Campos & Benjamin Franklin - Amor De Siempre

Gabin & Ana Caril Obiols - Azul Anil

Mystic Diversion - Sweet

Parov Stealar - Tell Me

3-11 Porter - Surround Me With Your Love
CD 2
Shirley Horn - Yesterday

Carmen Cuesta - Shape of My Heart

Rouge Rouge - L'amour Avec Toi

Brazilian Girls - Sirénes De La Féte

Cabaret Noir - Ballade Du Nuage

Serge Gainsbourg - Couleur Cafe

Paris Combo - Je Ne Sais Qui Fumer

Flabby & Melody Castellari - Miss You All The Time "Parole Parole"

Kid Loco - Love Me Sweet

Levitation - More Than Ever People

Norah Jones & The Peter Malick Group - New York City

Marcin Nowakowski - You Are The Sun

Tone Loc - All Through The Night

Claude Monnet - Je Suis Venu Te Dire Que Je M' En Vais

Magda Umer - Już Szumią Kasztany