Pinacolada vol. 2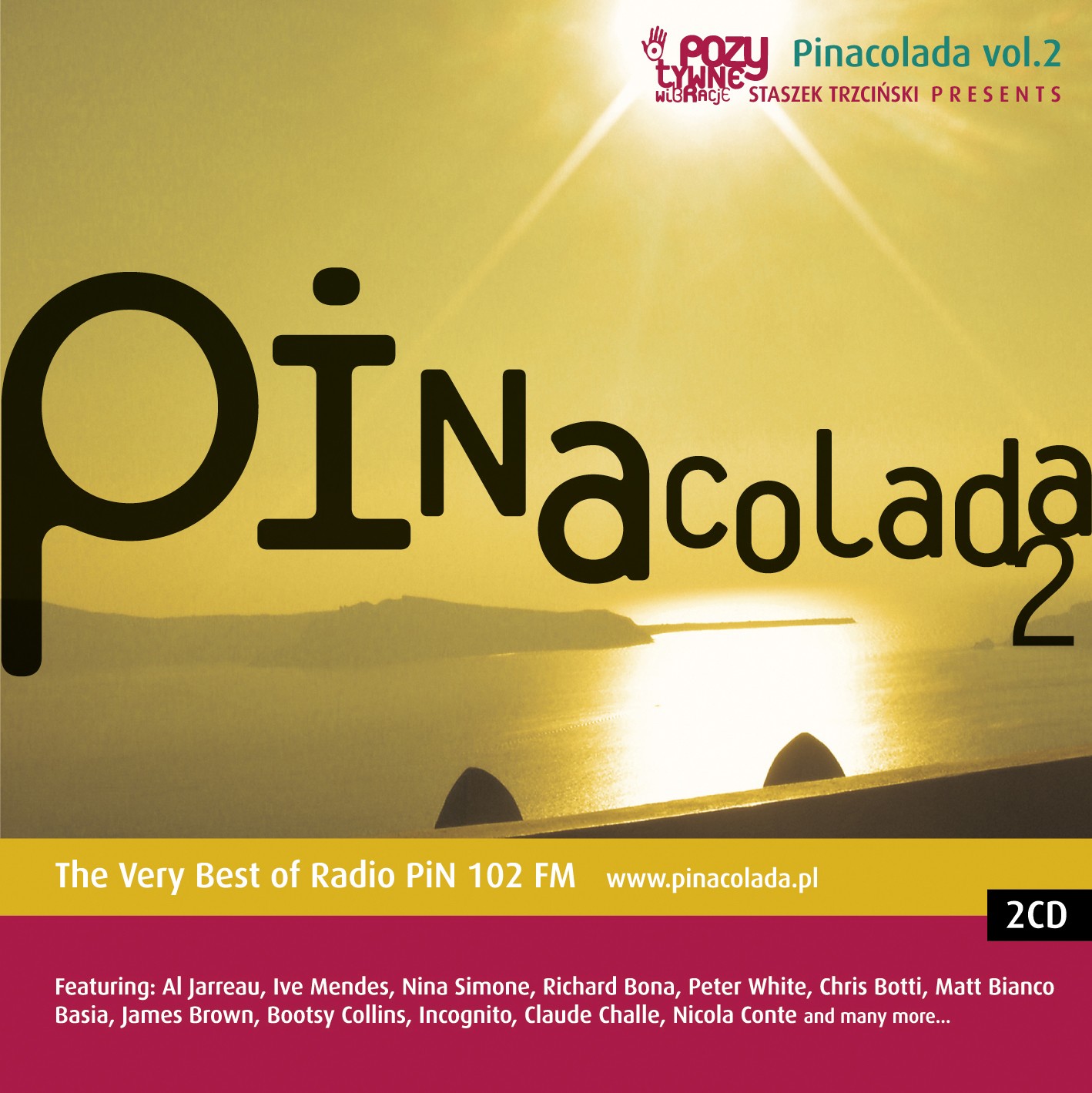 The compilation, which can (but doesn't have to) be associated with a Warsaw radio station. The first part of Pinacolada proved to be a retail hit in May and June this year.  Nobody expected such warm reception of this debut series.
On the double album smooth jazz, chill-out and classic soul as usually dominate.  There are classics like Al Jarreau, James Brown and Nina Simone. There are also more recent pieces, usually describes are "new sound":  Nicola Conte and Variety Lab. In addition there are Brazilian sounds like Ive Mendes, Senor Coconut, Astrud Gilberto, Stan Getz  and smooth jazz pieces signed by Chris Botti and Peter White. An all those are joined by the affinity of sound: classy and stylish.
Pinacolada sounds just as well in the winter, with snow and frost out of the windows and summer - the warm rhythms are always filling with positive energy. The double album with over two hours of excellent music is a perfect present.
"Pinacolada" is also an audition between 2004-2012, every Wednesday at 9PM in Radio PiN. It was ran by Stanisław Trzciński and Maciek Ulewicz.
The second Pinacolada was again cooked up by Stanisław Trzciński, co-host of the 2004-2012 radio show in the PiN 102 FM Radio, creator and producer of Pozytywne Wibracje and creator of Radio PiN – with the programme director Emil Marat and music director Marcin Sobesto.
The publishers are STX Records and Universal Music Polska – those companies have signed a permanent agreement for Pinacolada for 5 years. The compilations will be published twice a year. Enjoy.
---
Tracklist for "Pinacolada" vol. 2
CD 1
Al Jarreau Featuring Marcus Miller - Mas Que Nada

Matt Bianco - Wrong Side of The Street

Brenda Russel - Soul Talkin

Incognito - Do Not Turn My Love Away(Venom Mix)

Bootsy Collins Featuring MC Lyte - I'm Leavin' U (Gotta Go, Gotta Go)

James Brown - It's Too Funky In Here (Remix By Funkstar De Luxe)

Adam Plack & Claude Challe - Carmenita Lounging (Opera House Mix)

Nicola Conte - Kind Of Sunshine

Ilya - Bliss

Marla Glen - Destiny (To Get Up Again)

!DelaDap - Angelo

Senor Coconut - Smooth Operator

Rosario Flores - Como Quieres Que Te Quiera

Victor Davies - Better Place

Nina Simone - Ain't Got No Grass (I Got Life)
CD 2
Ive Mendes - If You Leave Me Now

Chris Botti & Ch.Kreviazuk - The Look Of Love

Peter White - Never Gonna Give You Up

Rodney Hunter - Work That Body

Variety Lab - London In The Rain

Riccardo Eberspacher - Voices

Mighty Bob - Tell Me

Saint Privat - Pan Am 009

45 Dip - A Man And A Woman

Coralie Clement - A'Loccasion Tu Sours

SW - Sweet Lullabies

Bliss - Wish You Were Here

Richard Bona - Bona Petit

Mystic Diversions - Quedate

Gino Vannelli - Gettin' High

Sweetback & Aya - Lover

Mat Dusk - Two Shots Of Happy, One Shot Of Sad

Wendy Lands - Fall In Love Again